Google Penalties: How to Diagnose Them and How to Recover
How to

Google can be a 'maker' or a 'breaker'. At least in terms of search results. To get indexed and to rank high in search, you need to follow their guidelines. Otherwise, you can get a penalty. In this post, we'll figure out what a Google penalty is, how to understand that your website got penalised and what to do afterwards.
1. What Is a Google Penalty?
We need more differentiation between a hard 'manual penalty' and 'algorithmic penalty.' I've seen the word 'penalty' been thrown around way too quickly without differentiating. I think that's dangerous.
Kevin Indig
Mentor for Growth at German Accelerator
So let's differentiate these terms. First, there are algorithmic updates. These are handed out to websites that do not meet the standards and expectations set up through algorithms that crawl the web searching for sites that meet their 'quality guidelines'. For example, such updates as Penguin and Panda aren't penalties. They are algorithms that evaluate websites rewarding those which meet the guidelines. Site owners need to know that they will not be notified of any algorithmic 'penalty'. They will only see the negative results (traffic drop).
Then there are manual penalties. These are imposed based on real people reviewing sites, looking for such things as 'black hat' tactics. Site owner will be notified about such penalty. A good news is that you have an opportunity to request reconsideration. Of course, before sending a request, you should try to fix everything. By the way, users can report suspicious websites with spammy/paid links, or malware.
There are Google guidelines that any business owner must check out to ensure that his practices are not going to result in penalties. If manual penalties are imposed, site owners will be notified by Google, along with the reason for the penalty.
2. Most Common Reasons to Be Punished by Google
There is a range of penalties depending on the severity of the committed 'crimes'. Most commonly, a site's search ranking will be lowered. However, there are cases in which a site has been entirely deindexed by Google.
And some penalties are meted out just to specific pages, as opposed to the entire website.
2.1. Manual Penalties
Here I've listed the most common reasons for imposed manual penalties:
Questionable or unscrupulous link-building. This includes such things as buying links or setting up link agreements with sites that are unrelated or are disreputable. So keep links to your site and from your site natural. The frequently asked question is what to do if your website is a victim of negative SEO attack. Google's John Mueller has recently replied that in most cases they ignore such backlinks.

Private Blog Networks (PBN). This is the practice of buying expired domains or creating new sites and linking to one's site from them. Google is on to this practice now and, if caught, the penalties can be severe.
Keyword stuffing and hidden text. Everyone is familiar with this outdated practice. Keywords need to flow naturally within content and not occur in high numbers.
Low-quality content. This also goes without saying. Google is looking for unique and high-quality content that is not appearing elsewhere or being repeated.
Hacked site.
Cloaking and sneaky redirects. These are black hat strategies that attempt to show one type of content to search engines and spammy content to visitors/users. Again, Google's manual reviews will catch this, and penalties will follow. If a business is authentic and principled, why would it use these tactics? That's what Google asks as it imposes those penalties.
Spam in any form. This refers to user‐generated spam, spammy freehosts, spammy structured markup, and pure spam. User‐generated spam means allowing users to publish content on a site/blog for the primary purpose of promoting their products or services is easily discovered and can result in penalties. Doing so on one's blog is just as bad. Google wants unique content that educates, entertains, and inspires. Another issue here is that if a site owner wants to comment and discussion threads on his posts, users will use those functions for the sole purpose of product promotion. It is crucial that any blog owner regularly review the comment/discussion threads and remove spam.
Check out a video where Matt Cutts explains what it means if your site has a manual action labeled as 'Pure spam' and what you can do to fix it.

2.2. Algorithms' Updates
All site owners must understand that Google's algorithms are becoming more and more sophisticated and attempting to 'fool' them will become increasingly more difficult.
Below are a list and description of the 'heavier' algorithm updates.
Google Panda. This was an algorithm first launched in 2011, as a method of targeting low-quality sites (sites that just spin and duplicate content or that consisted of too much advertising). Over the years, Panda has been updated numerous times. Google has also provided guides for webmasters so that they have a clearer picture of what the expectations are.


Tip.

To make sure that your website is not full of duplicates, you can check it with a crawler.

Netpeak Spider

can spot such issues as duplicate pages, text, titles, descriptions, headings.

BTW you can solve these tasks even in the free version of Netpeak Spider crawler that is not limited by the term of use and the number of analyzed URLs. Other basic features are also available in the Freemium version of the program.

To get access to free Netpeak Spider, you just need to sign up, download, and launch the program 😉

Sign Up and Download Freemium Version of Netpeak Spider

P.S. Right after signup, you'll also have the opportunity to try all paid functionality and then compare all our plans and pick the most suitable for you.

Penguin. This update deals with unnatural backlinks. It detects poor quality links, backlinks from spam sites, links that lead to irrelevant pages, strange anchors (only with exact match).
Hummingbird. Hummingbird was created for better understanding of user intent and providing the most relevant answers. It is necessary to improve the CTR and behavioral factors, fill the site with useful content that will satisfy users' requests and meet their interests.
Mobile-friendly update. This algorithm boosts mobile-friendly pages in mobile search results. So you should take into account such factors as loading speed, navigation (the text is not written in small print, links are at a sufficient distance from each other, etc.). This makes it easier for users to find relevant and high-quality resources. Also, keep in mind to check your website by Google's Mobile-Friendly Test tool.
Fred. Fred can punish for the abuse of advertising windows and banner advertising, irrelevant and over-optimized content.
E-A-T (Expertise, Authoritativeness, and Trust). Google has recently confirmed that it's a significant part of their algorithms. It detects low-quality pages and extremely crucial for Your Money or Your Life (YMYL) sites. Here is a great guide on what is E-A-T and how to improve your website according to it by Marie Haynes.
Read 'Experts Roundup: The Most Annoying Google Penalties and Updates, and How to Recover from Them'.
3. Identifying the Penalty and What to Do
If you are hit with a penalty, the first step is knowing that this has happened. Google gives out about 400,000 manual penalties a month. And the surprising thing is this: webmasters are notified of such penalties, told the reason for the penalty and given advice on how to fix it. But less than 10% of those penalized fix things and ask for reconsideration.
Algorithmic penalties are different. First, you will not be notified. Your clue will be that your SERP ranking has dropped at least by 10 or more. If you only drop a few positions, it is likely that a competitor has cleaned up or improved his 'act' and now outranks you. Your job is then to review that competitor's site/blog and figure out what they have done to improve their rankings. You can then take steps to improve yours.
But if your ranking has dropped by 10 or more, then it is your job to research the algorithm updates and to discover where you might have been 'tagged' by some filter.
3.1. Manual Penalties
You'll be notified about it. You go into your webmaster search console and check for messages. There you will find the penalty that Google has assigned, the reason for it, and what you can do to fix it.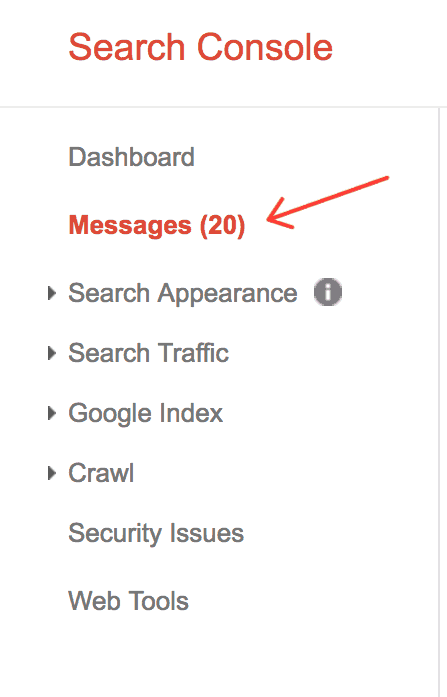 Most likely, you can receive a penalty for low-quality content, link violations, or spam. Also, we recommend checking the 'Manual Actions' tab in Search Console. It consists of recommendations from Google.
Here are the steps you should take based upon the message you have received:
Correct low-quality content immediately. This is content that has been 'spin', that does not provide readers/viewers with anything new or valuable. Delete all low-quality content and replace it with original, high-quality posts. If you struggle with this, get some professional copywriting help.
If a penalty relates to link-building, it's time to conduct a link audit. A webmaster can use Google's tools or other tools to evaluate backlinks (for example, Ahrefs). Where to start? Do the following:

Identify low-quality and irrelevant backlinks. If you have thousands of backlinks, Netpeak Checker can help you to find poor quality donors very fast. Check out a detailed manual.
Remove those that you can (e.g., one that has been placed in a comment/discussion thread). For those you cannot, contact the webmasters via email and request removal.
Keep those emails so that you have a record of your requests. If you cannot get backlinks removed, disavow them. By the way, here is a great list with 'disavow' candidates:

This is a good list of the types of links you should still consider disavowing in 2019 by @Marie_Haynes

Disavowing in 2019 and Beyond - Should you be auditing your links?https://t.co/1uPNVvgSrSpic.twitter.com/NWmBHDNL6h

— Cyrus (@CyrusShepard) February 27, 2019

Once you have cleaned up what you can, ask Google for reconsideration.

Login into your Search Console.
Take a look at all versions of your website and make sure all of your data is correct and complete.
Carefully review the manual action that was taken, and ensure that you have taken all of the actions that have been suggested.
Right there, you can click the 'Request a Review' button, asking Google to reconsider. Be sure to list all of the changes you have made. The documentation you provide is significant. Real people will conduct the review, and they need to see and verify what you have done.
Don't be too impatient. Google will send a confirmation of your reconsideration request but will also tell you that it could take weeks for a decision.
3.2. Algorithmic Updates
These are more difficult to discover. There will be no notifications, and your only clue will be a negative change in your SERP rankings.
When you see a significant decline, then you will have to match your site against any updates listed by Google. And the process will require some time and persistence.
First, understand that there is no way to request reconsideration for a filter. What you can do is thoroughly evaluate your site against updates and make the necessary changes. Over time, you will get a better position in SERP, but you cannot proactively do anything about it.
There is a list of tools that you can use to monitor Google updates and understand which one does a bad turn to you.
Moz will not analyze any penalties you may have, nor any old penalties you got. It will simply apprise you of the newest updates so that you can check them against your website.
Panguin connects to Google analytics, so a webmaster can log in with his Analytics ID and pull up a chart of traffic to his site. Each time there are algorithm updates or changes, the traffic will be charted, and it is easy to see if those changes have impacted the site. And it is easy to simplify what is being observed. There are icons to click on to check specific updates:

Fruition Google Penalty Checker
This tool has a free and premium option and is coordinated with Google Analytics. The free option allows a user to check two websites over three months and get a plot graph that shows how updates have affected a site.
The premium version allows three or more websites to be monitored and Google impact reports that indicate the probability that an update has impacted a site.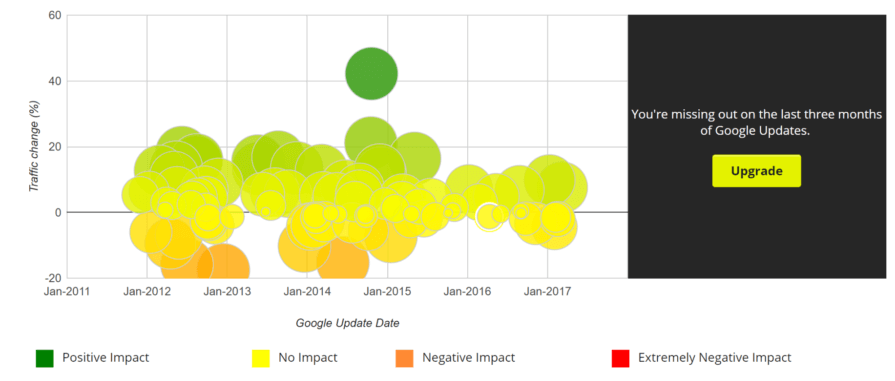 This is a free resource that identifies both public and phantom updates (those that are not announced). It has simple charts which are color-coded. Blue means everything is fine, green is good but could be better, and red means there is a danger of penalty.
Here is an example of the type of color chart Rank Ranger produces:

Summing up
Google penalties can hit rankings hard and quickly. When you get a manual penalty, the critical thing will be to respond quickly, fix what Google tells you to, and request reconsiderations as soon as possible.
The algorithmic updates are harder to identify and can go unnoticed until your rankings are hit hard. When this happens, using any of the above tools can help discover those updates that may be impacting your position in SERP. You cannot request reconsideration. You will have to wait for the algorithms to update and find that you are 'good to go' again.
Of course, the best practice is to avoid doing those things that you know Google does not like in the first place. So monitor your site and your rankings regularly and keep in touch with the most current Google updates.
Have you faced any Google penalties and if so, how did you recover from them? Share your experience or ask questions in the comments below ;)