David Braun: Business Challenges During 16 Years of Experience
From Experts

Our team has attended 8P conference and met David Braun, CEO of TemplateMonster and Weblium. He kindly answered a few questions about his business and interesting experiences from his life.
1. As you mentioned in your other interviews, Weblium is a hybrid of services and product. How are you planning to upscale your business?
The most complicated part is services. We've upscaled product part quite easily. Actually, we disguise and transfer services part into the platform. For example, creating a website is very time-consuming process that requires coordination with customer. We've implemented it via atomic design. Customer has special tools that help him choose appropriate website elements from pre-designed ones faster. I like to compare them to LEGO blocks. Also, relations with clients are very automated. I can call it 'communication pattern'. Every time we stumble upon a new use case, we automate it. Using iterative process we strive to work out 85% of client's cases.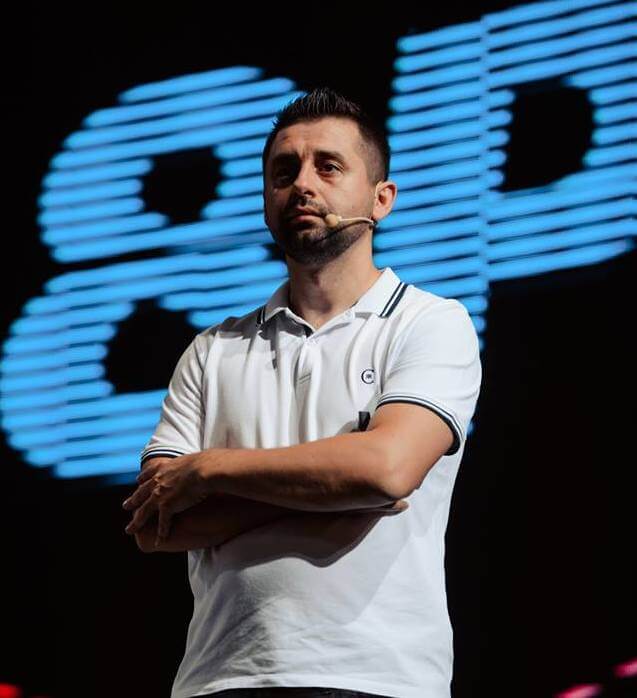 2. Are there any differences among TemplateMonster and Weblium features at the Western and Eastern markets?
Yes, if we are talking about Asian or Arabian markets. I can share an interesting case. Our Japanese representative asked us to translate templates at least on the landing page for more adaptive design. We did it, but conversion decreased. He was very surprised. So we conducted a few experiments and found out that English designs looked more attractive. After that we don't follow such practice. And another eastern peculiarity: everyone is used to bargain, even in Ecommerce. That's why our online chat has special instructions on different discounts. By the way, it's a great opportunity to make upsale or cross sale because while they're bargaining, they can make a trade-off. For example, if you want a discount, buy two products.
3. Do you use data-driven marketing?
Nowadays without data-driven your marketing budget is to burn because you don't understand which channel exactly works and which one you can upscale. That's why we use it. Now there are many tools that allow to consider these attribution models.
4. What challenges did you face while business upscaling? Which market was the most difficult to do it? Were there markets you decided not to enter?
We've decided not to enter Indian market. I've been there a few times, opened an office, made arrangements with education ministry. It didn't end up productive because a lot of people want to have a commission before results. That's why the case went sour.
5. About Weblium. It's sitebuilder. Does it have any advantages over CMS? I mean in SEO perspective, because there is eternal discussion among SEO specialists what's better.
Of course, sitebuilder is not as flexible as manual CMS. Because we should keep a balance among flexibility and simplicity. The majority of our clients are enterpreneurs, not SEOs. But we have a checklist from SEO specialists with adviсes that help us not to be in the way of implementing SEO strategies. SEO-friendly URLs, anchors, all of that is available. The platform doesn't help SEO, but it doesn't disturb it. So the main thing for sitebuilder is not to disturb SEO specialist in the process of implementing his strategies.
6. Was it difficult to find oversea partners for Ukrainian startup?
We didn't say that we are a Ukrainian startup in 2002 but now I think it's a compliment. Ukrainian engineers are at the top over the world and it's a good selling point. You can say that you're a Ukrainian startup and this is the country of the best engineering talents. And it creates a good pitch. As well as Israel is well-known for its security specialists, Ukraine – for its products with engineering potential.
7. I've heard that affiliate program has significantly boosted TemplateMonster. Which businesses can use it and how do you conduct the process?
This model matches all business types. Nevertheless, one problem occurs when you decide to upscale it – your partners tend to be inactive. You've made arrangements, but they still do nothing. So partner has to perform certain actions via his channels to get things moving. And the following step is tuning partner's efficiency. I mean when he is doing something, you, as a knowledge holder of your business, should help him and correct his actions.
Why so many companies failed in affiliate marketing? For example, you have 300 partners, this is a small number for you, and a lot of problems appear with them, plus only 5-7% of partners are active.
The main rule in affiliate marketing is a complete transparency with partners.
8. I know that you study your target audience very deeply. How do you 'touch' your audience?
I always talk with my clients on different topics. I mean not only about websites, but about their business. If you don't understand what problems enterpreneurs face during web developing, it'll be very hard to make an appropriate offer. It seems that a lot of product companies (in Ukraine) have a lack of such communication with clients. Not about their own product, not about bugs and features, but about client's business and their daily activity, about their fears and worries. It's very significant because it helps you formulate right copywriting and messages.
9. Questions about startup mistakes are usually the most frequent, but I want to ask about even-keeled business mistakes.
I repeatedly see one the most frequent mistakes — everybody is looking for something new and disregard what they have. For example, you can get 20-25% of new partners and ideas from your old client base. People take it for granted, like their relations are finished. This is typical mistake.
And the second one is when founders neglect their 'domestic capital'. They are looking for some kind of guru. But they can have a very strong specialist with a great understanding of business and its insights. And for some reason, maybe because of years of previous relations with founders, it's hard for this person to become an opinion leader in the company. If your company is changing, you can offer your experienced workers to become your business advisers. And they'll totally blossom! I was surprised how cool it really is, way better than someone 'from outside'.
That's how it works in our company. For example, you transfer your Head of Support team to the Sales team and say that today he is an adviser and should interview people and suggest improvements.
10. In other interviews you've mentioned an idea that if you want to upscale your business to oversea market, you need specialists from there. How have you experienced it personally?
We always do so. We are looking for Country Manager there and his duties include seeking out our representatives. As an example, there was a huge mistake when we've found a big hosting provider in Turkey and thought that our upscale would be easy because he has millions of clients. No, it wasn't easy at all. The fact is that he had his own business and our direction was not his priority. No performance, our direction didn't generate needed revenues to become strategically interesting. That's how the business dying. Then we reoriented and found a small studio with higher motivation. A big partner is not always a profit.
11. You mentioned that sharing experiences between other businessmen (even from another niche) can make you take a fresh look on your company's processes. Did you get ideas, for example, from offline businesses?
I have a lot of examples. The fresh one is about TemplateMonster transformation. Once upon a time I was talking with Fozzy Group manager. He compared us to a factory which produces its own products and sells them in its own shop. He asked me about the main aim if I would be a shop manager. Of course, it would be providing various products to give clients wide range of choice. Then he asked me about the main aim if I would be a factory manager. Of course, to sell my products everywhere.
This conversation lead to dividing TemplateMonster into two business units with their own activities. I've been working so many years and haven't got to this simple truth, and the person from other niche suggested this idea right off the top.