Christoph C. Cemper: Top 10 SEO Mistakes to Avoid
From Experts

Last week 8P conference held a webinar with Christoph C. Cemper, founder and CEO of LinkResearchTools, and we want to share with you a transcription of essentials where you can find useful tips mostly about links and link building.
#1. Website Migration Mistakes
These are the most popular ones and they were splitting into three.
Not checking the error pages after a website redesign and migration. Links, not log based.
People forget about redirects! They have tons, thousands of links going to their website and the previous website, or previous domains and subdomains. Sometimes people say, 'Ok, I'm gonna look at web server log file where I can see only four errors, maybe some 500 errors'. If someone clicks on the links somewhere on the web, or if you have links on the subdomain that doesn't exist anymore for a year or five, or ten, you would never see that. What you can do is look at the backlink profile and see where these links are appointing to.
Your fixes are to check and redirect such error pages on subdomains as well. Redirects to the relevant pages is something we run every week. Human errors happen, redirects are getting forgotten. While lecturing at university in Austria in a big, expensive university with master, MBA programs, I ran a link juice recovery on a new website, really shiny, sexy looking website, and 6588 pages had links that were lost. So a university lost university links. What would you do for 10 university links? They lost thousands. I hope they fixed them now.
Not checking if the website still has a noindex tag. Or response header.
It happened to me as well. Let's say, you are doing A/B-test of your homepage. You have one existing homepage indexed and other one – not indexed. And then you decide to change the first one to the second one. But you forget about noindex tag. It seems even worse, if you had it in the HTTP response header.
Not checking if your links are on noindex pages.
And something that I also see when we go from the off-page to the on-page. Some people refer them as fake links. It's an old but still working trick. People still sell or trade partner links on pages that have noindex. Maybe in a meta tag, Meta Robots or in the HTTP headers which are not so easy to spot. So don't forget to check if you have noindex tag removed. You can check it in Link Redirect Trace browser extension.
Also, think about toxic redirects. Keep in mind that Google penalties are also passed by 301 redirects. If you have spammy links to your domain and you redirect your domain to the old one, you can inherit a penalty. Google changed it silently, they didn't confirm it. It something a lot of people ignore and when you do your SEO with expired domains, build PBN and it is linked to it all via redirect to your own sites, you can have problems.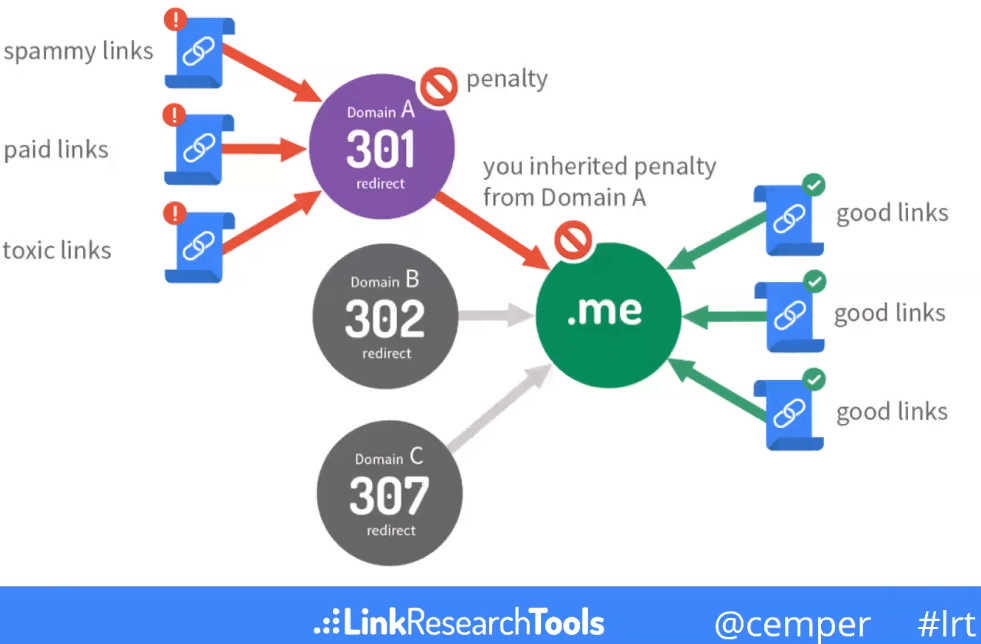 Editor's Note*. You can check all redirects (where they are pointing to) on your website and prepare the list of redirects for migration using Netpeak Spider. You can check out manual for this task in paragraphs 3 and 4 in our post Redirects: Which Ones to Use and How to Set Them up.
To avoid these mistakes and keep traction on SEO, you should do regular SEO audits. The Netpeak Spider crawler will help you carry out a comprehensive website analysis. The program has a free version that is not limited by the term of use and the number of analyzed URLs, in which many other basic features are also available.
To get access to free Netpeak Spider, you just need to sign up, download, and launch the program 😉
Sign Up and Download Freemium Version of Netpeak Spider
P.S. Right after signup, you'll also have the opportunity to try all paid functionality and then compare all our plans and pick the most suitable for you.
#2. Not Really Look at the Competitor's Backlink Profiles
I'm not talking about poking around, I'm talking about comparing yourself to your competitors in repeatable manner with a methodology. If you just pull up a quick backlink check up – looking at some links, at some anchor texts, here is a good link, here is, it means nothing, it's not a good SEO. That's not helpful for the long term anyway. Look at the full competitors' backlink profiles and get links with a low risk and high power trust.
#3. Building and Buying Just Any Links
It's here because it still works, people are still building and buying just any links. That's the problem. You want to build high quality links only? You need to check which links are relevant to your niche, and even more important – if they have a low risk for your domain and high-level trust. Otherwise, don't build them! You need to go for high trust links.
Measuring the trust of a domain is not enough. Domain authority means not a lot. You can have really bad untrusted links from page of a trusted domain. For example, if you have a big newspaper where subfolders are hacked and there are some spam links, of course, these pages don't have enough trust. Domain authority is a concept that I don't recommend to follow. Now it's very popular and link sellers loved DA because it always has some good numbers, from 30 to 50. You want to go for a high trust links from well trusted page and of course there is low risk. You can upload links to the Link Opportunity Review Tool and see how potential links will appear compared to your existing links.
#4. Forgetting to Check the Disavowed Links
So, first we disavowed all links and then undisavowed them again. What is this crazy guy talking about? You ought to double-check your old disavow file to find really great links that you accidentally disavowed. Maybe they have changed over time, maybe it was a human mistake which we have a lot. I personally had good disavowed links to my domain and I wasn't happy when I found out it. And, of course, I undisavowed them.
#5. Stuffing the Anchor Text with Commercial Keywords
Overdoing money keywords or no money keywords. Both are bad, so it depends.
You know when money keywords are overdone it's becoming a problem. Everybody's scared of commercial keywords. Let's not use too much anchor text with money keywords, right? Because a lot of spammy links had money keywords. That doesn't mean money keywords are bad. So other problem that we got out of this, that is a lot of companies have no money keywords at all, they disavowed all links with money keywords. And you know what happened? They've dropped for money keywords. Surprise. Money keywords aren't bad.
What's bad is doing it too much and doing it too little. It really depends. So your fixes are to understand your competition, to understand which anchor text ratio is OK. I use the competitor's landscape analysis to find out what's going on.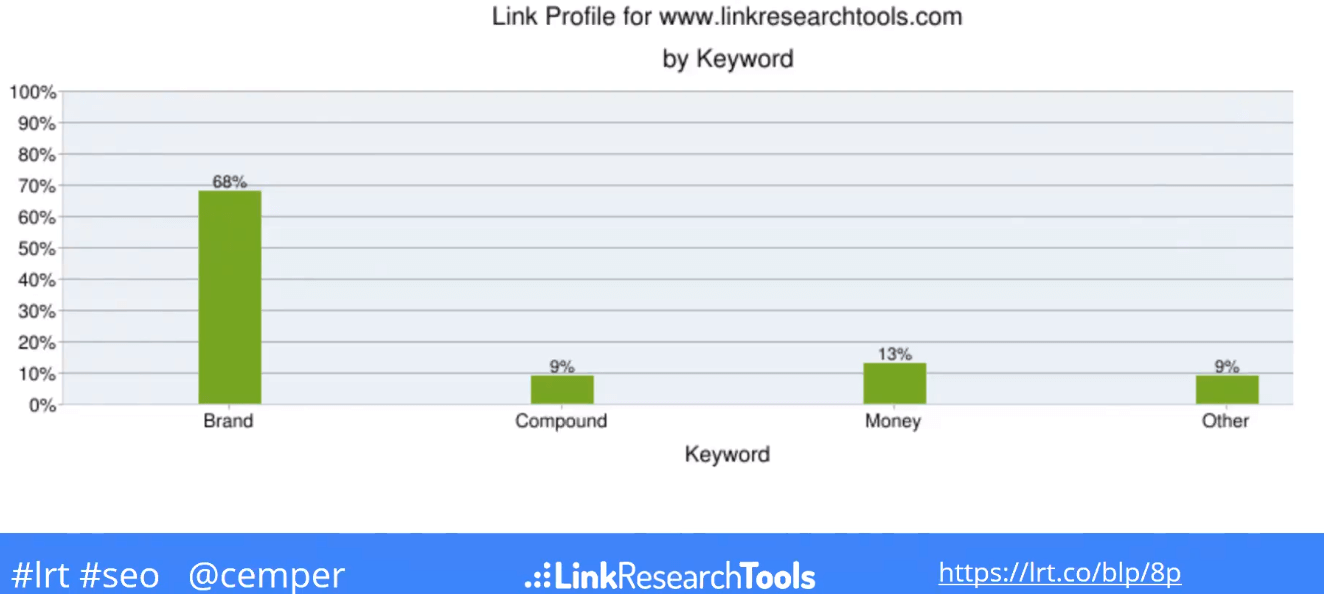 If you don't look at your competitors, if you don't compare yourself to them, you know nothing. We saw that I got 13% money keywords. My competitor's landscape analysis shows me that my competitors has only 1.9% money keywords. It's possible, it's totally possible that my competitors are also scared of overdoing money keywords and disavowed or removed all these links. Which means that the industry has changed, and because industry has changed, my money keywords ratio is too high. So in relation 2 of my competitors for this keyword, for this market and this language, it's too much. It can be different in every country, every language, every keyword space. This is not general rule. Even in the same industry, for example for mobile phones, keywords can have different ratios.
The rules depend on the top 10 results you have in Google or any other search engine. Top 10 results have different competitors and those have different link profiles. So now good luck plan again is to blend and be a little bit better.
#6. Stop Building Links All in All After They Recover from a Penalty
A lot of people got rid of bad links and expect that it means you'll get rid of a penalty. But it doesn't mean you'll get any new good links. So you took away a lot of links and what do you expect? Rankings go down, if you lose links. If you got bad ones, ranking goes down more. If you've just disavowed links and got rid of a penalty and your ranking doesn't go up, it's because you don't have better or stronger links. So you need to keep building links. Start link building and outreach process in your company and do the leg work. You need to do a promotion, it's an outreach via emails, it's sharing on the social media, sometimes even pay but you can't buy best links and point them to the bad content.
#7. Not Monitoring the Backlink Profile After a Backlink Audit
A lot of companies, a lot of SEO experts say that they do disavow, do link audit, clean their backlink profile and they're fine. They're not. Because web changes on a regular basis, it changes everyday. If you've done some work and uploaded disavows, if you got rid of some backlinks, it doesn't mean you won't get new bad links. Another problem to stopping is when you come to undisavowed links. Monitoring the backlink profile is something to do on a regular basis. Not daily, but we recommend every month at least.
And the next question I've got – is it even possible if I don't do any link building? I didn't build any links myself. How can I suddenly have a high level of toxic backlink profile? There was a webmaster who said 'I don't wanna touch links because I got burned, I have penalty, I did a clean up, I do the manual remove' and guess what happened. He had new competitors. They ranked better than him. Competitors did link building with a low risk, with quality links for themselves, and all the bad links departed to him. So his backlink profile was worse over time. Just think about all the negative SEO. It's easier to find bad links than to find good links. It always has been, but now bad links can have really negative affect.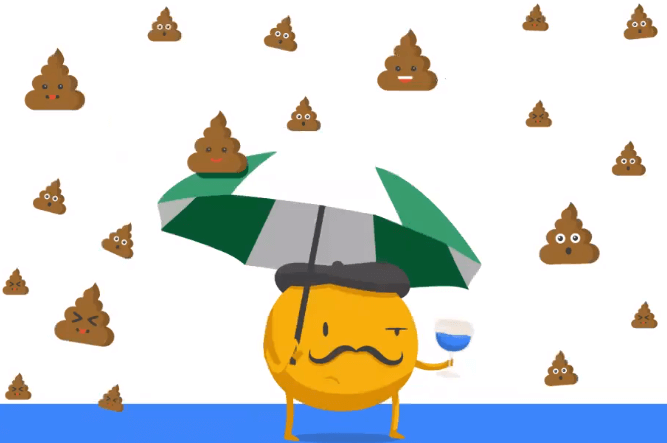 So your fix is to monitor new links to your domain so that you can spot negative SEO attacks.
#8. Looking at Only a Slice of Backlink Profile
We've seen this for years, we've seen it a lot last year. And my recommendation that I give at any presentation or webinar, is don't look at just one slice of your backlink data. When you look at links, you have to audit all of links. It's like you go to a dentist and check only one tooth that would be not right. I mean, what do you expect? One tooth is OK and other teeth are also OK? So my recommendation is looking at all links that you can get.
Combine it all together and look at all redirects, all rel=canonical, all the so-called 'deleted links' which are blocked in robots.txt. It's not a top level approach.High level approach is to take 500 links out of 17 million. It's just worth nothing. Because statistics don't apply, you cannot extrapolate from a small sample of 500 links to 17 million because it's not about statistics, it's not about A or B, it's about what the 16.5 million other links.
So your fix is to combine as many backlink data sources as possible and look at the full picture. Choose a software or a plan that allows you to analyze all your backlinks. If you've decided to buy a plan, pay attention to buy an appropriate one to check all your backlinks.
#9. Disavow All the Links
Believe it or not, I've seen companies go so crazy about links, become so afraid of links, that they diavowed all the links. Anyways. Regardless of their quality. Because there was a movement in the market, especially in Germany, where people said 'Links are bad, we gonna get rid of them because Google'll figure it out'. That's wrong. You want to review the link detox risk of everything, this is about to rescue ones. And you can do it yourself or hire a professional. However, if you want to do it yourself, make sure you got proper training, proper experience. Especially, when you got thousands or ten thousands of links to disavow, or maybe even 100K of links to disavow. This is a hard job because it requires a lot of experience.
#10. Disavow and Wait for Google to Take Care of Things
A lot of people diavow links and wait for Google to take care of things, but it's not as easy. You need to make Google recrawl links, so that disavow command may actually work faster. How you can do that? You can run Link Detox Boost 48 hours after you uploaded the disavow file to the Google Search Console. This innovation was built in 2013 and it helps people recover from penalties in three days.
Be careful with over-optimization on your website! Google has been constantly doing algorithm updates to ensure the users are satisfied with the results.
In leading up to this, Google has trained its algorithms to find, and penalize websites that try to trick into the top. Over-optimization of keywords, anchor text, meta title, and description are bound to backfire. These spammy practices will pull down the organic rankings of websites and can even lead to a manual penalty.
The future of SEO optimization must focus on providing the target audience with the information they seek. With BERT and other language processing algorithms, such as Neural Matching Algorithm already in place, Google will rank only high-quality content based on the context and depth of the topics covered. Future SEO optimization strategies must focus on the audience rather than bots.
In a Nutshell
To sum up all mistakes mentioned above let's say what you ARE TO DO to avoid them:
Check all redirects after a website redesign and migration.
Check noindex tag on your website and webpages.
Analyze competitor's backlink profile.
Purchase only high trust links from well trusted pages.
Double-check your old disavow file to find great links that you accidentally disavowed.
Use money keywords according to your competitor's landscape analysis.
Monitor your backlink profile regularly to spot negative SEO attacks.
Analyze ALL your backlinks.
Don't disavow all links.
If you want to recover from penalties faster, try Link Detox Tool.
And, of course, you can watch a full recording of the webinar here. Let us know if it was a useful post for you in the comments below and what mistakes did you do? ;)