An Insider Story About How We Created SEO Anthem
News

We threw a huge campaign to mark our birthday this year. Needless to say, it was an unusual and forever game-changing experience. It has become the point of no-return to old marketing rules since we discovered that our inner energy perfectly chimes with our audience.
A real highlight of this venture was the creation of our own SEO anthem and music video. And since the hurly-burly of our birthday campaign is over, but our creative energy is still going strong, we decided to tell you a backstage story of this journey to carve it in our memory.
P.S. If you're too eager to listen to the cool music and can't take the wait anymore, scroll down to the bottom to grab the links to music platforms to listen to the track.
This Is How It All Started: Brainstorming and First 'Aha' Moments

When It Turns to Be a No-Laughing Matter

Premiere Day and Sweaty Palms

Was It Worth the Effort?

You Can Listen to the Song on Different Platforms
This Is How It All Started: Brainstorming and First 'Aha' Moments
We mark Netpeak Software birthday on June 21. And we always strive to do something special, outside the box. So our Brand Manager Ossa came up with an idea to turn our birthday into a rock festival. We upheld her idea in tow since we all wanted to blow the cobwebs away and let the steam off after three months of quarantine idleness.
Also, we realized that a bit of fun hurt no man. And an online SEO rock festival would strike a chord among SEO folk who also nagged about all parties being put on hold for an indefinite time.
So we were buzzing, bringing up craziest ideas when someone said in this topsy-turvy: 'Hey, let's shoot how we play different musical instruments from our homes. Fan is a guitarist, Wise a drummer, Tonks has a wrecked piece of a piano… It would be dope!'
We supposed it to be fun, just a no-brainy video of how we play musical instruments at home in the raw.
Yet we were blissfully unaware of how much thought, sweat and hard work we would put into it after all.
When It Turns to Be a No-Laughing Matter
We didn't even catch how we derailed from our initial route – a 'JUST HAVE FUN' direction.
At the next daily meeting, Fan told us that there was another discussion with our CEO Wise, and it was settled to have a professional shooting instead of an amateur, and instead of playing some covers, the goal now was to write an original song about SEO (we create SEO tools after all). That's when I finally lost my hope to sing 'Show Must Go On' from my kitchen 😢
This is what happens when you do business with people who are serious about music. Luckily we have a plethora of talents in Netpeak Software.
For instance, our CEO Wise is a drummer in 16 punk rock bands. Like simultaneously. And he's doing sports. And manages the company, of course. He's a Jack-of-all-trades, or probably lives in his own dimension where time and space spin around differently.
Our Head of Marketing Fan is a spark plug and has a perfect pitch. She plays the guitar and piano in a band.
Our Web Product Manager Gravelot is a huge fan of folk and the Middle Ages. He plays the woodwind instruments and has a magnificent voice that channels the aeon of middle age castles and battlefields straight to your ears.
And here three of them are.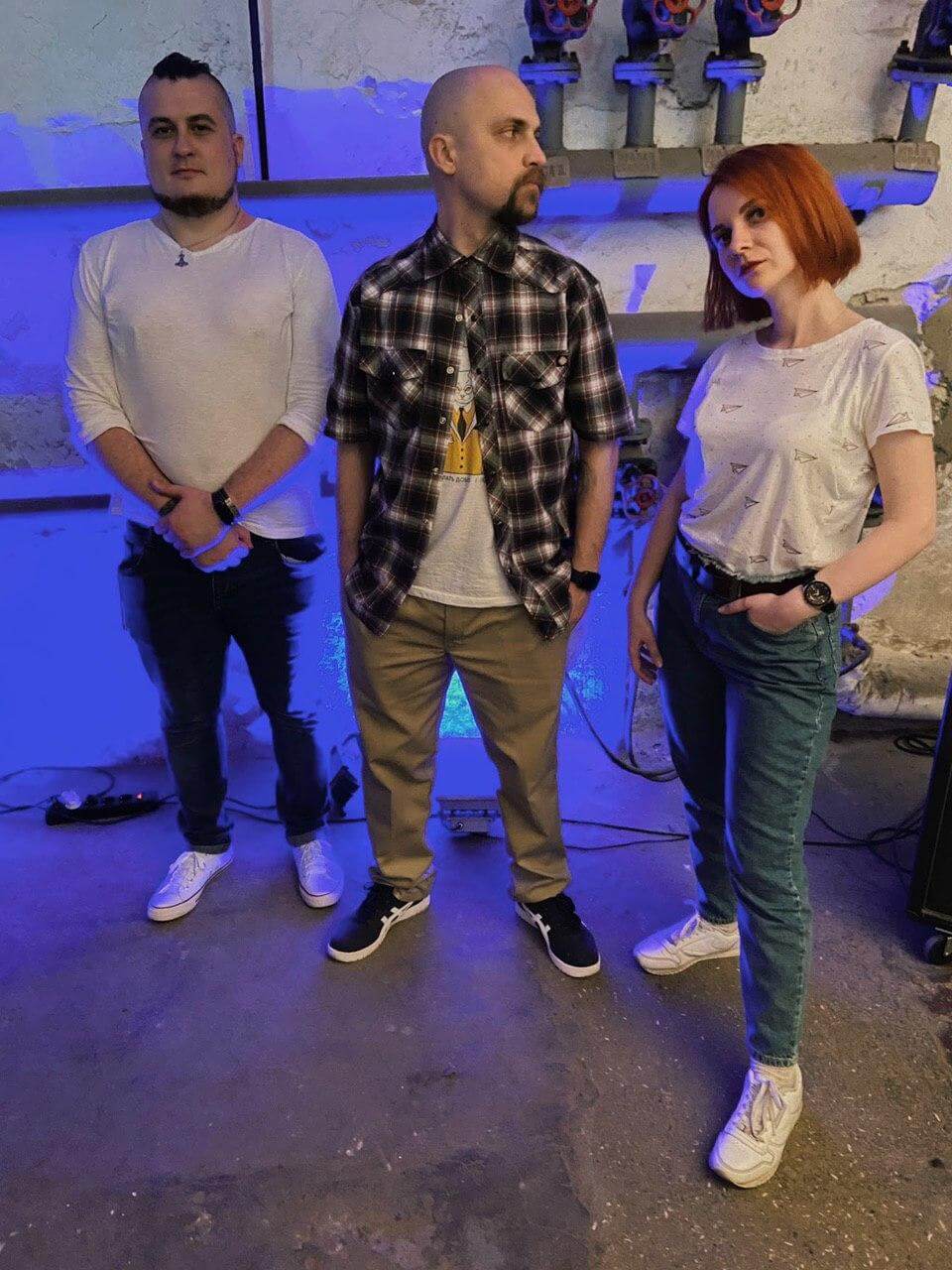 In a word, it was a band made up of Wise, Fan, and Gravelot. The band's name choice – Owlymates – wasn't random. It was named after our owl-assistant (if you think it's too fluffy for a rock band name, it means you haven't heard a single yet).
So from that point on every daily meeting, Fan reported on the progress but didn't reveal the details too much to heat our interest. All we knew was that Fan, Wise, and Gravelot were so wrapped up with work and this secret project even on weekends for nearly a month.
With her every update, I didn't have a trace of doubt in my mind – it's going to be huge.
Premiere Day and Sweaty Palms
On the premiere day, I woke up brimming over as if I'm eleven again, and it's Christmas party at school.
Premiere was scheduled at 11 AM, and it was an edge-of-the-seat morning when I was trying to do my regular tasks.
We pinned our hopes on this day because we planned to show the world something uniquely new.
Five minutes before the official release, Ossa sent an invitation to our team chats to join it. The suspense was building up, and the countdown was sluggishly slow. As our Blog Editor Unit said, it felt like sweaty palms and tingling feelings inside your belly.
With the very first chord, my pulse started racing, I immediately caught the tune, and my mind was singing 'SEO Power! SEO Force!' all day long. Adrenaline filled my veins.
Just to clarify, it's not the song that you'll listen to after work to unwind. It's the song that you can listen to in the morning if your upcoming day is going to look like a battlefield, and you need a powerful blow to start it.
Shortly after the release, we were piled up with requests to give a link to music platforms to listen to the track and share it with other SEO reps.
We basked in praising comments and felt so proud of what we did.
Here are some comments that I personally picked from our Youtube channel.



And this is my favorite that landed into our PR specialist Valerie's inbox:

Then he let his wilder spirits go.

And of course, we found ourselves running the gauntlet of criticism too. Though there were unmet expectations, I believe that it's a double-edged sword because he did expect something offbeat crazy from us.

Was It Worth the Effort?
Now let's unravel this most perplexing question.
But first, you should know what the guys really did and the costs they spent.
More than 4 hours of zoom meetings to decide on the concept and style of the song
12 hours of studio time and 96 hours of production
8 hours of shooting in the old damp basement
Four weeks in total, neck pain, and fast food bolted down at the gasoline
And of course, money. The music production industry is extremely money-consuming
What we got in the end:
Mind-boggling experience
More than 6,4K views on Youtube
Bustling activity in the comments, inbox, and social media – even Reddit SEOs condensed to watch our video and leave a few pleasant comments.

A like-minded and supportive audience that legged us up
And most importantly, we showed that we're open to novelty and ready to share experience in any industry: SEO, marketing, music, or whatever.
So the answer is YES. Most undoubtedly, yes, it was worth all the efforts, time, and money because the upshot exceeded our expectations.
You Can Listen to the Song on Different Platforms
Now SEO Anthem is available on the most popular music platforms. Check it out, add it to your playlist to charge with power, and beat all competitors in the SERP.
Fancy the track? Leave a comment to share your impressions below this blog post 👇