2010-2020: How Netpeak Spider & Netpeak Checker Evolved Down the Road
News

In the early 2010s, Netpeak agency developed the first SEO product - Netpeak Checker, which had barely visible traces of the present-day tool. In this blog post, I want to walk you through all changes in Netpeak Spider and Checker that took place in in one hot summer season during the last 10 years and share the changelog 😉
Netpeak Checker
2013
As you know, the internet has records of everything, even your punkest haircut from high school. That's why I managed to sweep the dust from the darkest corners of Google and get out a screenshot of Netpeak Checker from the distant 2013. Feels like a blast from the past: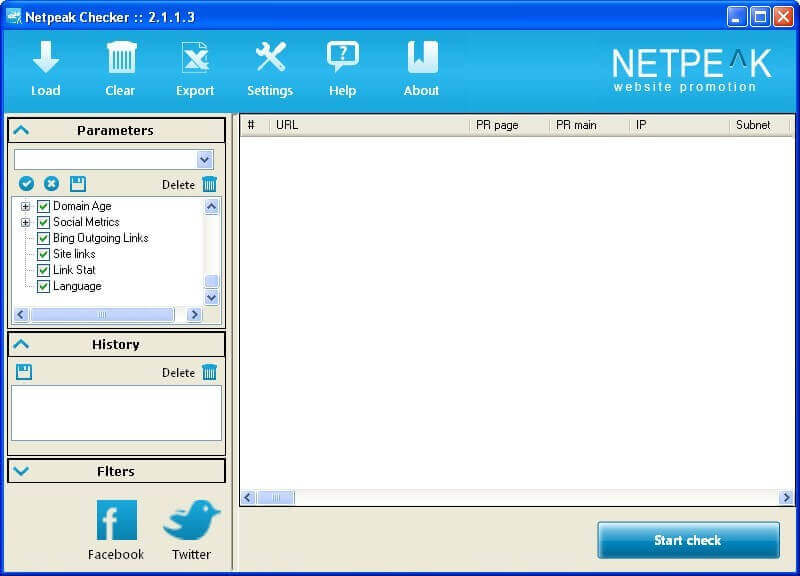 As you can see, the general concept was preserved till today's version: we collect all useful data on domains in a single table (now it can be pages) from different sources and do it best 😉
2017
Interestingly enough that Netpeak Checker has gone through version 2.X twice. The thing is that in 2016 Netpeak Software became a separate company within the Netpeak Group and a year later breathed (literally) in new life into Netpeak Checker in release 2.1, which will no longer be of this ivory color: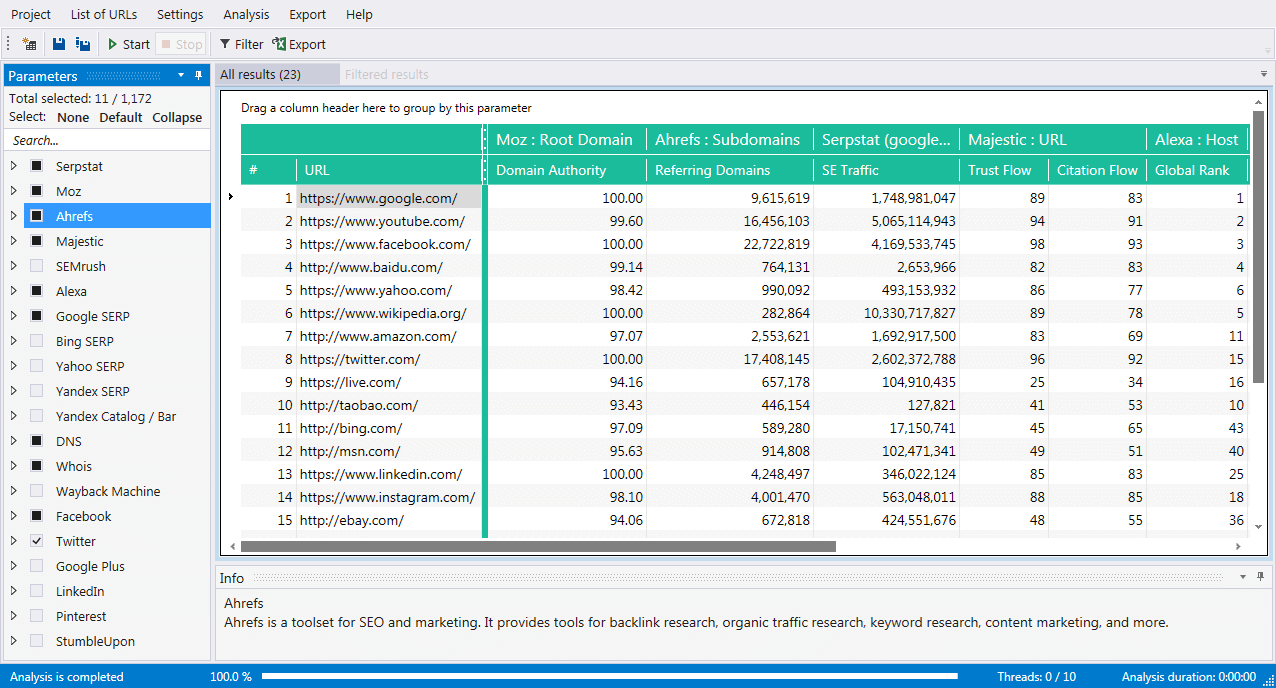 Netpeak Checker 2.1 'Mark II' allowed you to analyze over a thousand parameters and (and now compose yourself!) to save projects. Now you take these features for granted, but one day it was an innovative surge 😏
2018
If you've ever refurbished your apt, you'll sooner or later come to realize that all of this becomes your permanent situation. In a year or so, we drastically changed Netpeak Checker and released the new generation of the instrument 3.0, in which the parameter panel was shifted to the right side, and the dark mode was deployed (alrighty, you're not that easy to bamboozle, the dark mode had appeared earlier, but with 3.0 release it became the default):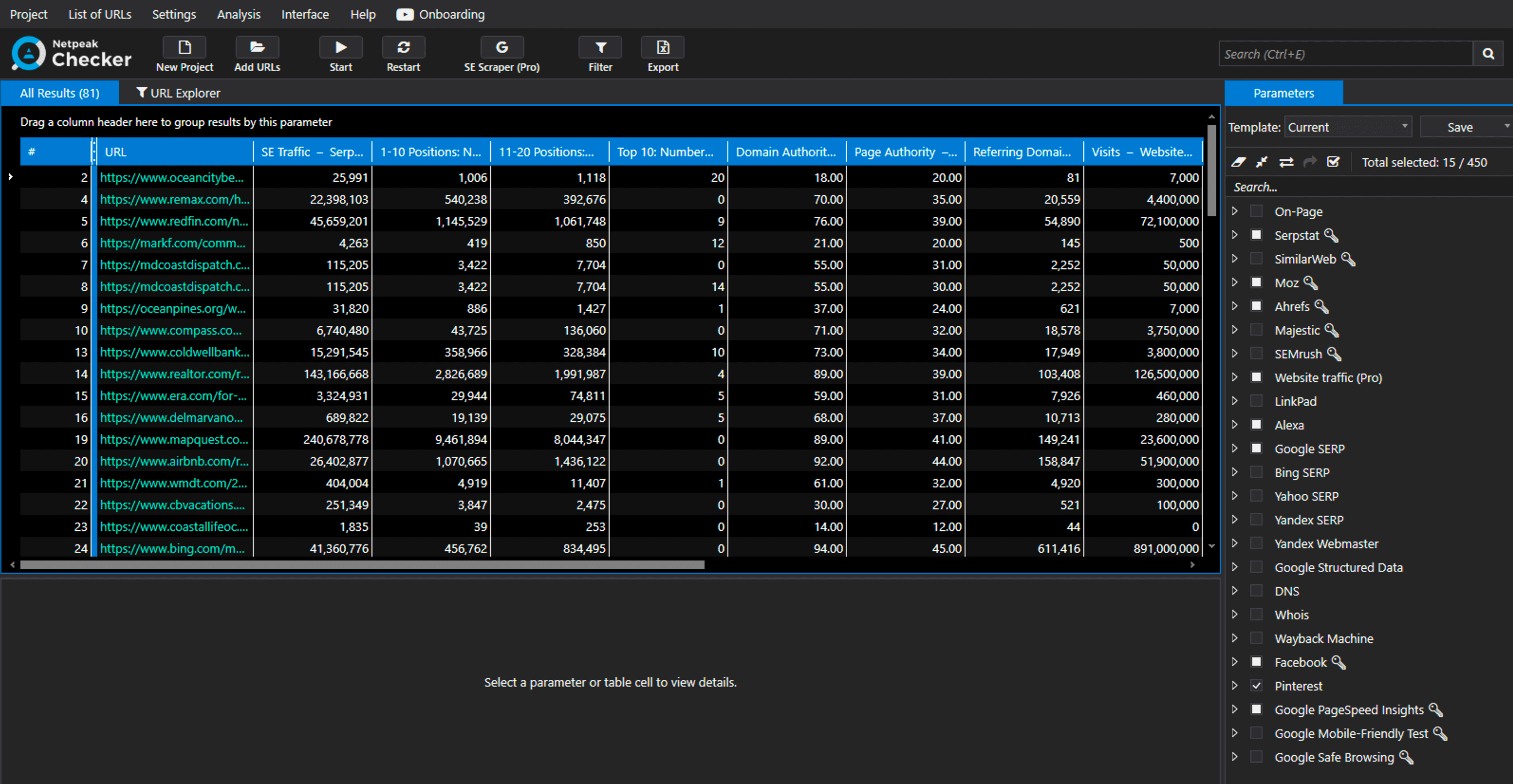 I'm kidding, of course 😉 The panel shift rightwards is not the main change in Checker. The key innovation in the 3.0 version is not only an opportunity to receive data from external services for the list of URLs or domains, but also to scrape Google, Yandex, Bing, and Yahoo results pages right inside the program. Over time, we've added more room for working with captcha solving services, more new data sources, and exporting reports to Google Drive.
Now the program looks exactly like the one on the screenshot above, but we won't promise that it'll remain the way it is (if you get my drift) 😎
Netpeak Spider
Our crawler's only constant is that it's a so-to-say Swiss army knife for SEO specialists and webmasters. Though it hasn't always been as clean as a new pin 😅
2013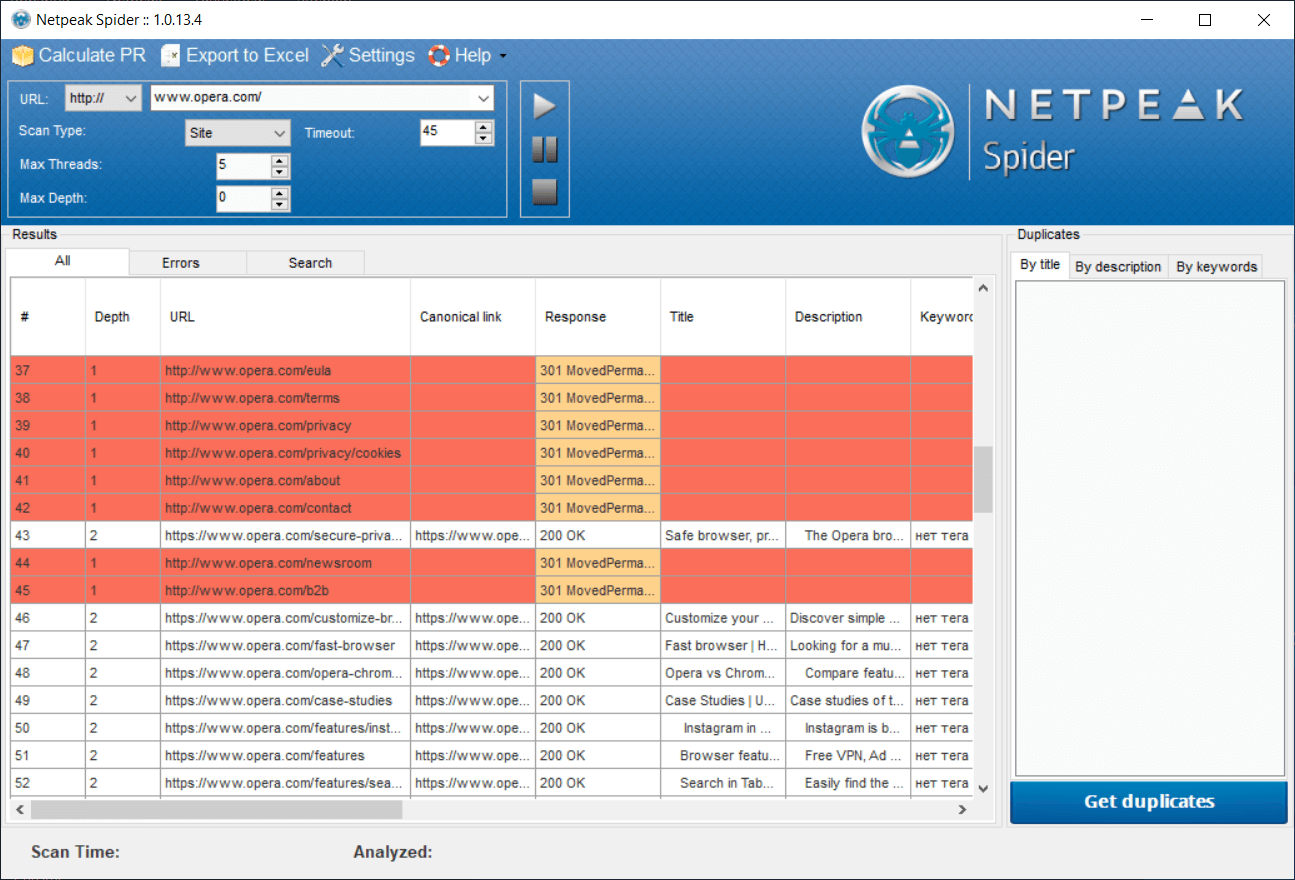 There were time when our programs were free for already quite a wide circle of specialists. We sometimes receive messages from users of that earliest free version of Spider who recall a bygone era, which we highly appreciate 😊
2017
But when Netpeak Software has become an independent company, we switched to a subscription model to have the financial support for further development of the programs 😉
And this is how our crawler looked like after the redesign in 2017: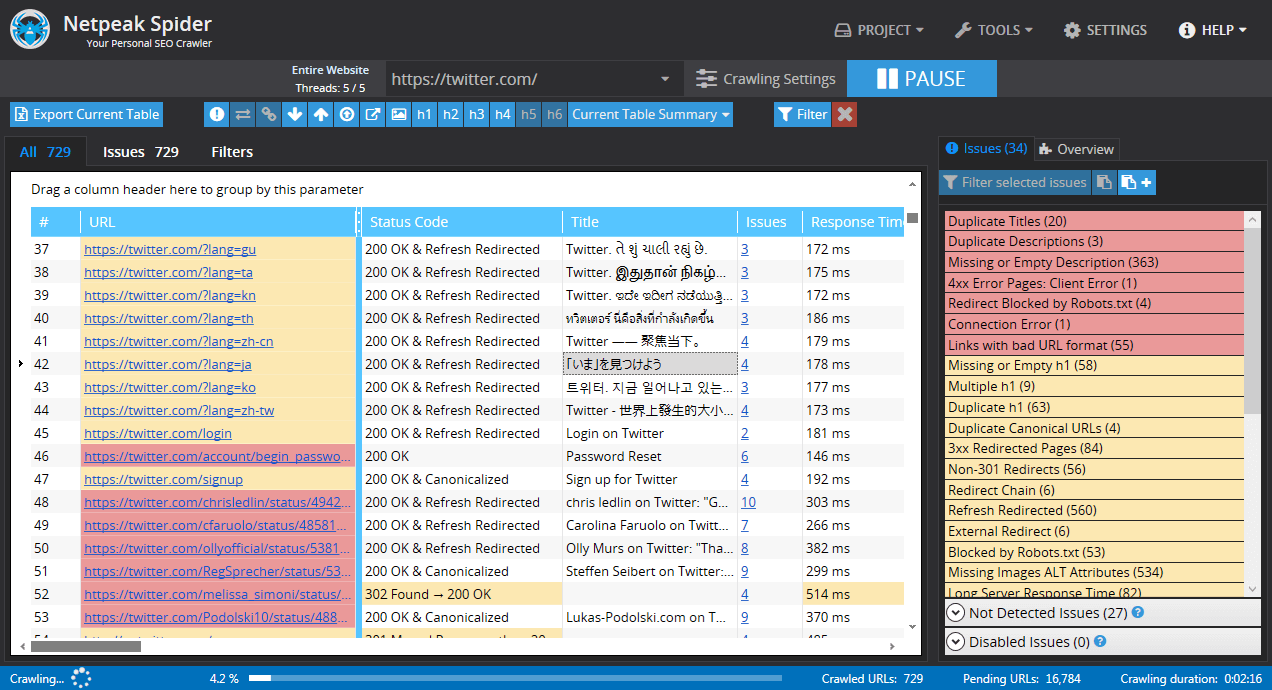 Will you ask where a sidebar with parameters is? You could choose the parameters in program settings – there was a separate tab as it is now for 'User Agent'. And the reports suggested only issues and custom ones: to see them, you had to switch from the tab with all results to the corresponding one.
I'm not going to shirk, now it's weird to see certain solutions of the previous years. Imagine how different our programs will look in several years! By the way, do you want to see our macOS version from the past? Unfortunately, we had to accept a failure and remove it from our website due to a bunch of macOS updates which made it impossible to continue the development. But here how it's imprinted on our memory: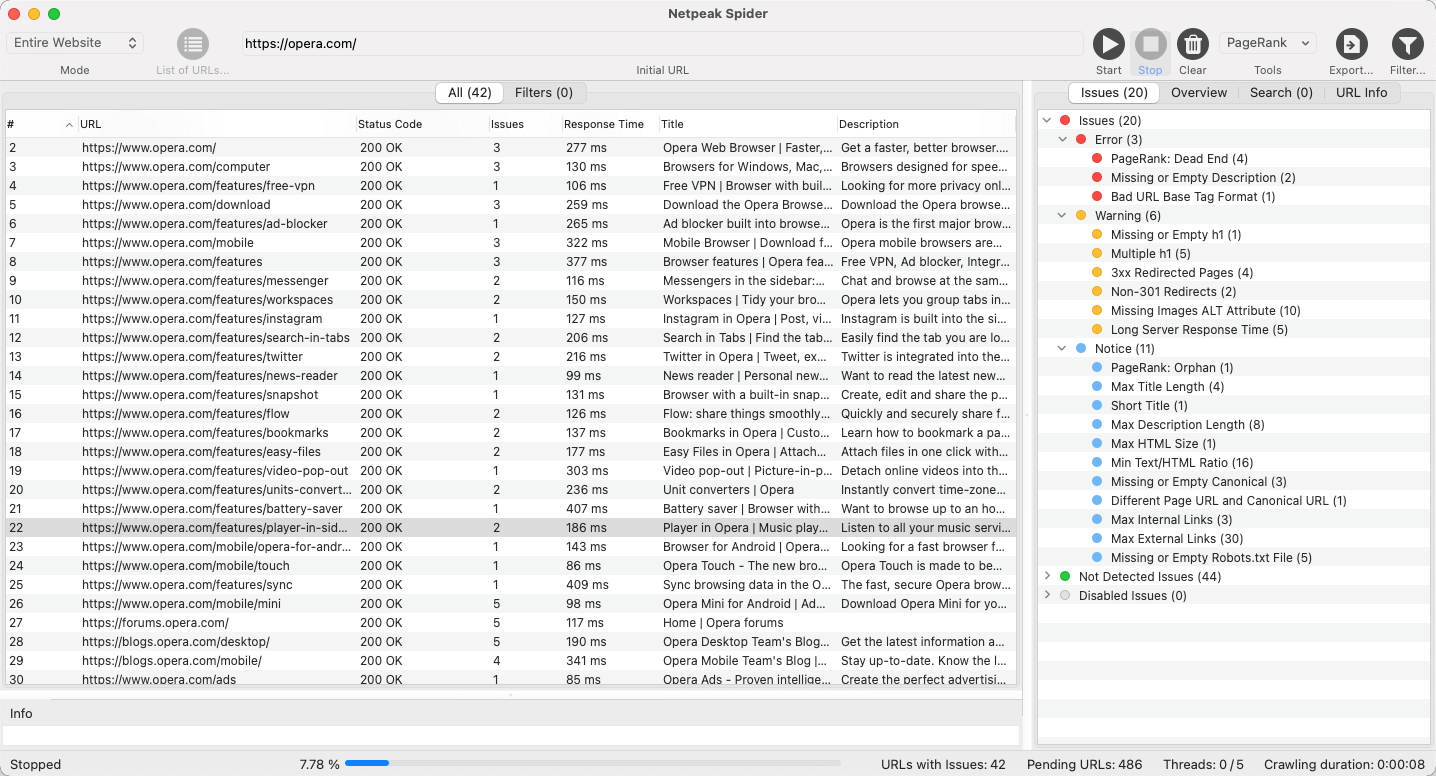 If you would like to experience that tickling nostalgié on your macOS devide, I can offer you to spend one hyggelig evening with this Netpeak Spider version and website crawls. If it sounds interesting, download it by clicking a button below. Please note, that you should have active regular Netpeak Spider subscription in order to do so.
Download Netpeak Spider for macOS
In those times, you couldn't pause the crawling, save the project, and continue it tomorrow. As the classics used to say: 'You only get one shot, do not miss your chance to blow.' So when you started crawling the big website, an unexpected internet blackout for a tiny second could have brought the feeling that the whole world had flipped you off 😄
I remember it clearly that each team's argument and customers' inquiry ended up with a reassuring refrain: 'Well, with Spider 3.0 release, that will sink in the past.'
2018
Fortunately, it wasn't just words, we finally did it and launched a wicked 'rocket' – Netpeak Spider 3.0, which brought us an award for the best software at Baltic Digital Days.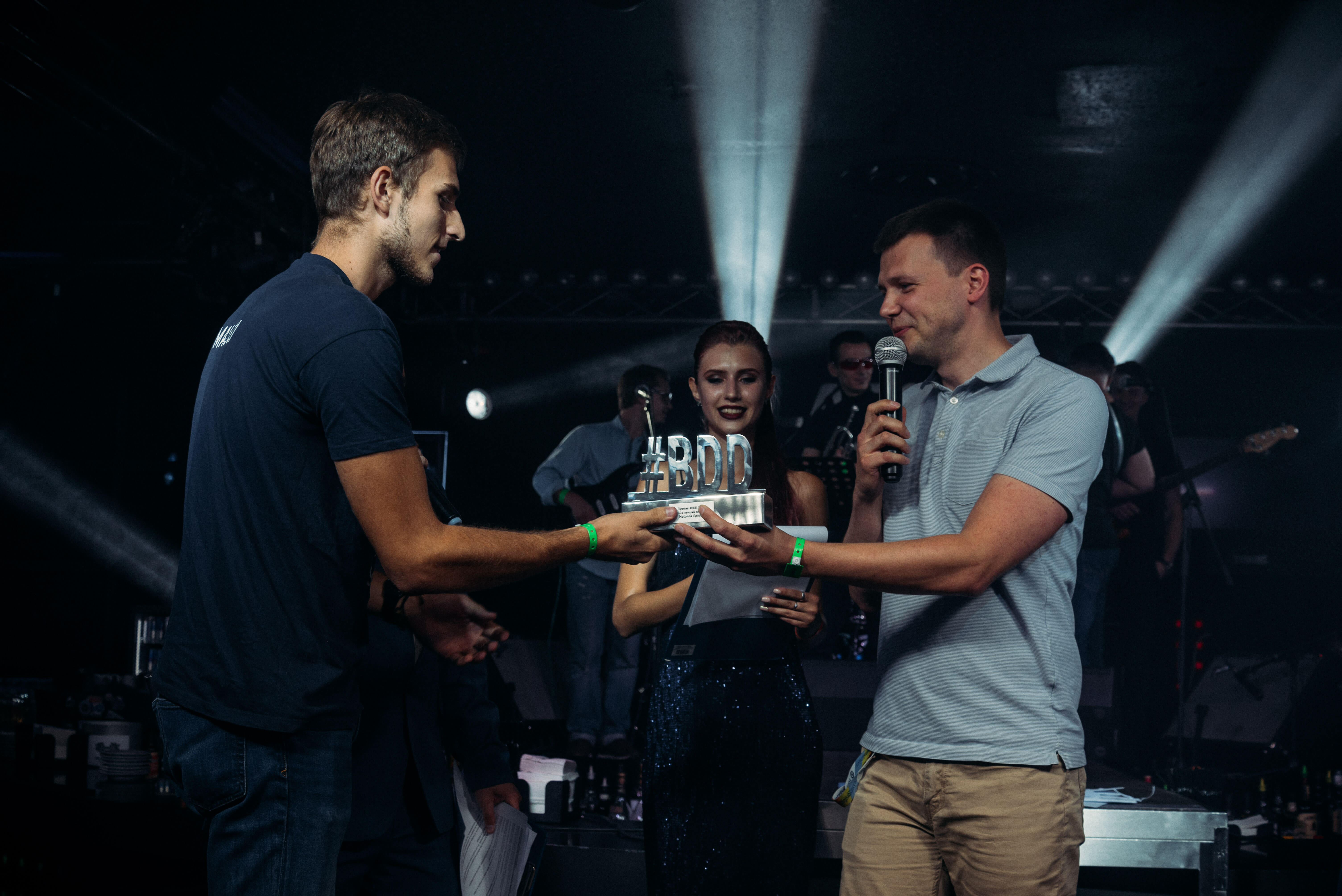 Briefly, without further ado, here's what we did in the new version of the program:
Crawling speed 30 times higher than in 2.1
Optimal RAM consumption
Opportunity to continue crawling after uploading the project
Changing parameters during crawling
Data segmentation
Website structure report
Dashboard (information about the crawling progress and diagrams after the program completion)
Export of 10+ new reports and 60+ bug reports in two clicks
Detection of complaint URLs
Table of skipped URLs
Quick search in tables
Delayed analysis of comprehensive data
New 'Parameters' tab with search and scrolling to the parameter in the table
And hundreds of other improvements…
And the Netpeak Spider interface began to sparkle with new colors.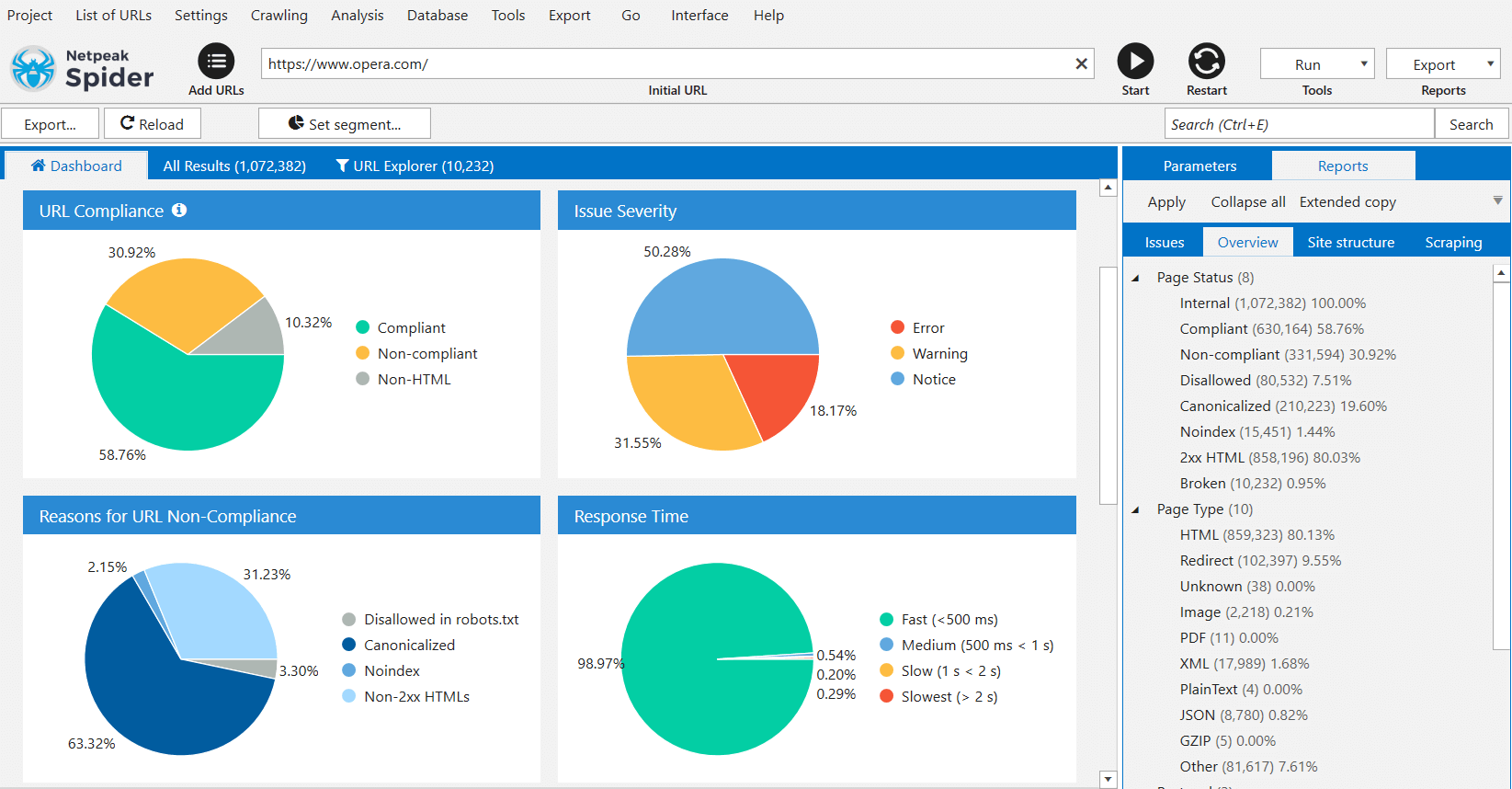 By the way, pay attention to the number of crawled pages in this project, it's a million of them 😏 Over time, we've added JavaScript rendering, generation of PDF reports with SEO audit, integration with Google Analytics, Search Console, and Yandex.Metrica, and a few hundred other improvements so that now we can confidently say that we're making one of the best programs for technical SEO.
And if you pine for reading the list of changes in each release over the past 5 years, welcome to the detailed changelog, where you can find out all twists and turns of this journey 📜